2020 Service Supply Chain Management: A Spartan Approach
When 7,000 Spartans held the battle lines against an army of 150,000 Persian soldiers in the Thermopylae War in 480BC, it was incredible — but not impossible. And when you have to deliver a critical replacement part of network hardware in two hours to a customer 8,000 miles away, the same is true. The challenge of fulfilling maintenance agreements and their associated SLAs worldwide is a formidable, but not impossible foe. It's all a matter of mindset.
How to succeed in a 7-against-150 world.
Networking hardware companies and high-tech OEMs in other industry verticals charged with getting critical spare parts and service to remote locations in tight timeframes can learn a lot from the Spartans. Their combination of preparation, discipline and their infinitely-adaptable shields make them one of history's most iconic force-multipliers.
If your company has its eyes on global conquest, it goes without saying that your organization will have to stretch. You'll need to faithfully fulfill your warranty agreements and SLAs, and your service needs to be world-class everywhere you do business. Your brand and success are depending on it.
Even for the world's largest networking hardware companies, this can look like an unwinnable war against time, supply chain complexities, trade compliance barriers, and local logistical skirmishes. In meeting these challenges, it helps to draw inspiration from history's original underdogs — the Spartan dogfaces.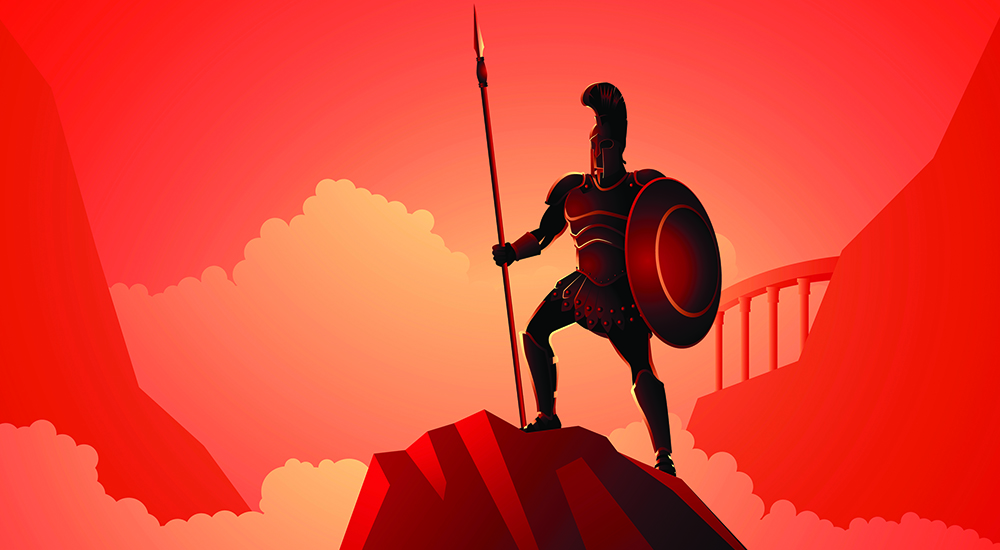 Their secret?
These mystical military masters of the Peloponnesian Peninsula would lock shields and never let go.
Imagine the power of your service supply chain if every player at every level around the world locked shields and worked in unison — from order entry and management to inventory control; from warehousing, distribution and transportation to trade compliance and in-country technical support and field services.
It's possible with a Spartan perspective and Flash Global on your side. Flash gives you the resources to have global stocking locations in over 700 places around the world. Furthermore, Flash gives you the ability to lock shields throughout your organization and ours for an unbreakable service supply chain that mirrors and magnifies your world-class brand's performance anywhere in the world. By partnering with Flash, you can create a force multiplier the likes of which history hasn't seen since 480BC.
Much of the Spartans' success comes from their shields or hoplons. They were effective instruments on their own, but when wielded in unison, these shields made the Spartans unconquerable. Spartans could face down any foe when they locked these unique figure-eight shields, forming what is essentially a "walking wall" or phalanx of soldiers. It was a point of honor for soldiers to hold their hoplons in position at all costs. That commitment had an important effect; each Spartan knew that the soldier to the left of him and to the right of him was covering him with his life. The level of trust it created enabled every soldier to fight with confidence and concentration, knowing his back was always covered.
With Flash, you create a phalanx of committed support that extends all the way to your end customer and uncompromising customer experience wherever they are. That frees you to concentrate your company's efforts where they'll have the greatest impact — making sales, innovations and process improvements.
You don't have to fight every battle yourself.
Our partners are a seamless extension of your brand and standards. Vetted, trained, continually assessed, and in constant communication with you, our people have your back.
Just like a Spartan would suffer dishonor by breaking ranks or dropping their shield, Flash's soldiers never break your service supply chain. Our global on-time-performance to SLAs is 99%. And our global dock-to-stock performance to SLAs is 98%.
Lock shields with Flash and nothing can stand in the way of you fulfilling your service commitments. That's good for your brand and great for your business. As you continue to expand, your reputation will precede you. And like an agile, high-performance Spartan phalanx, Flash's connections, resources, and personnel will be there to meet you and help you face down the next challenge … and the next and the next. We have facilities located in over 140 countries around the world that lock shields to deliver world-class service supply chain solutions anywhere.
In today's tech-driven, consumer-mindset world, customers demand a lot and often depend on you to deliver network hardware spare parts in as little as a few hours. With 2-hour, 4-hour, or next business day SLAs for spare parts, you face Spartan-like odds every day. Prepare like a Spartan — or at least partner with someone who does. Spartan phalanxes became the ultimate fighting machine through planning and commitment.
Flash Global has your plan of attack.
Where are your opportunities? Asia? Africa? Latin America? Europe? We're there with five Global Service Centers and Regional Flash Offices and 15 Multi-Client Distribution Centers all connected by our 6 command centers. Plant your shield anywhere. Flash Global and our partner network have over 630 forward stocking locations around the world where you can establish more than a presence — you can have a phalanx. Storm the market with our team of experts who work in the local language and time zone and will put extensive importer of record or exporter of record expertise to work for you. This in-country presence helps you push back the greatest challenges in expanding your service chain by helping you avoid customs clearance delays, ensure compliance and reduce pipeline inventory.
Like a hoplon, Flash has you covered from chin to shin by connecting you to the resources and experts you need to protect your service supply chain and prevent any gaps in your ability to fulfill your SLAs. That includes setting up screen, test and repair capabilities in-region that lower your costs and out-of-stock risks. It could also include drawing from our global network to assemble a team of in-region expert technicians who can perform services on-site.
We'll create you a supply chain model that's like a Spartan phalanx: always in motion, adjusting to eliminate gaps, and advancing on opportunities. Flash draws on its unrivaled experience as a pioneer in service logistics as well as powerful proprietary technology to guide you to the best business decisions. Using your customer locations and SLAs, we leverage our geographical network modeling process to identify exactly which facilities and locations are best suited to meet your SLAs while controlling costs.
Precision is impossible without vision. Spartan formations' trick for seeing through their shields was the figure-eight design which gave them a window onto the battlefield. Companies fulfilling on ultra-quick SLAs need ultra-precise visibility, too. Flash delivers through an operating system called FlashTrac which is a global, web-based IT platform designed specifically for service logistics. FlashTrac gives customers the ultimate locked-shields experience through a global, up-to-the-minute view of all field inventory, order management, and third-party shipment tracking. Flash customers can also use this battle-tested tool to identify and manage any potential exceptions.
Remember the Spartan model when you're marching into new territories. Locking shields with the right partner is the best way to win the day while protecting your brand along the way — just look at the Spartans, a brand that's been esteemed for over 2,500 years.